How to activate SBI online banking: It is very important for all SBI account holders they can take advantage of SBI online Banking Services. Do you know all the Banks have launched their application to reduce the complication of using Mobile banking services? With this feature you can check your bank balance by sitting at home without going to the Bank office, And also you can transfer money to other bank accounts without filling in forms in the Branch office. And also you can take benefit of all the other useful bank services.
If you want to use SBI online banking then firstly you have to start the service. It means that you have to activate your SBI mobile banking service to start using this service. As soon as activate this service you can start reaping the benefits. So, let's understand the step-by-step process of activating SBI mobile banking simply and easily here "How to activate SBI onlineBanking?"
How to Activate SBI online Banking in a Very Short Time?
Step-1: First of all we have to install the SBI's mobile banking application YONO SBI. YOu can download the application from the Google play store or we are providing you with the download link. You can use this link to directly download the application – Get It Now Here.
Step-2: After downloading the YONO SBI application start the application and click on the "Register with My ATM Card" button. As shown in the below figure.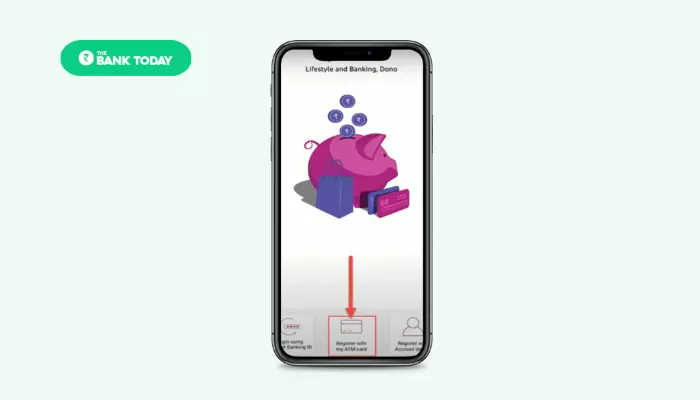 Step-3: Now you have to enter your account details (Like account number, DOB, etc). Enter your Account Number and Date of Birth in the given input fields. And then click on the next button.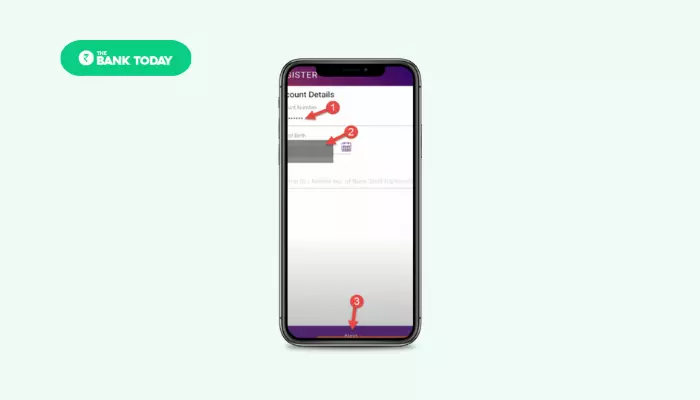 Step-4: After filling this you will get an OTP sms in your registered bank account. You have to enter that OTP in the given input field and click on the submit button.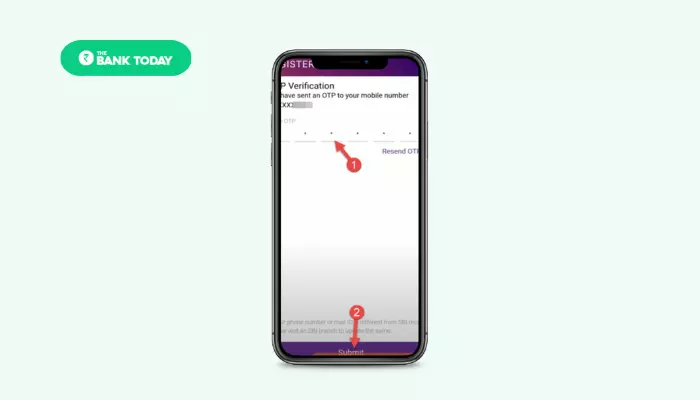 Step-5: Now you will be asked to select the Transaction Rights on the Review User Details page. On this page, you will see three options (View, Limited, Full) and access all the benefits you have to select the "Full" option and then click the Next button.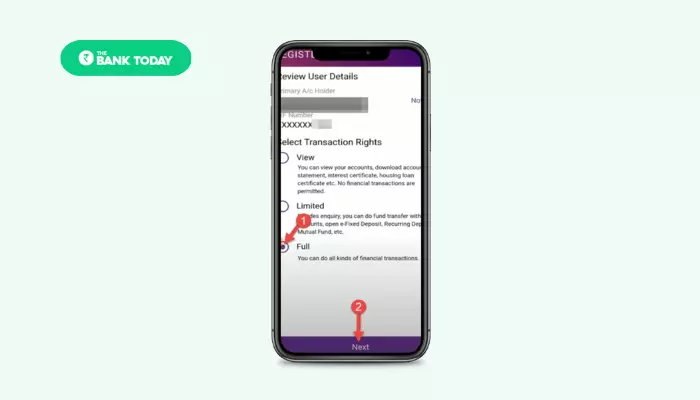 Step-6: In the next step you have to enter the last 6 digits of the ATM card. Fill in the last 6 digits of the ATM card provided in front of the card in the prescribed input field and then click the Next button.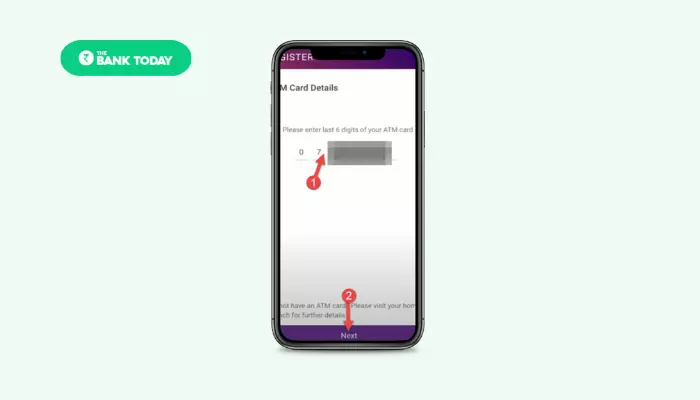 Step-7: Now you have to enter your 4 digits ATM pin which you use in the money withdrawal process from the ATM in the prescribed input box and then click the Submit button.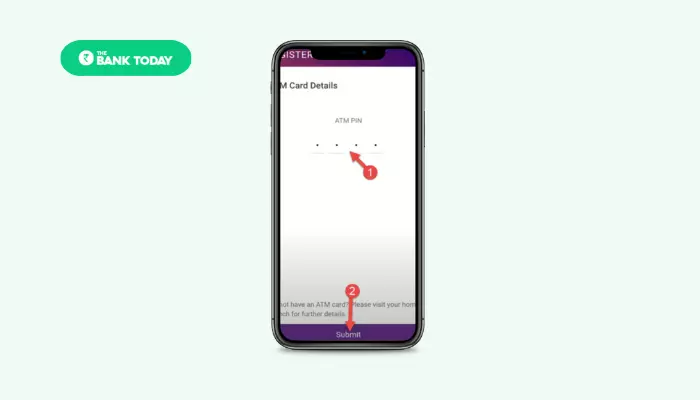 Step-8: Now you have to enter your Internet Banking Details. Here you have to enter the Username and Password. And note that the length of your username should be at least 3 digits and maximum you can make it 20 digits. Like you can make your username as BankToday. For this, you have created your password and the password should be at least 8 digits and the maximum can be 20 digits also your password should consist of a combination of letters and digits and symbols. Like you can make the password BankToday@000.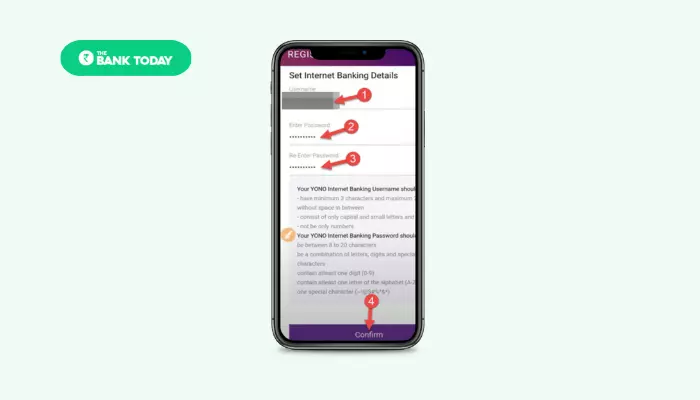 Step-9: As soon as you create and confirm the username and password you have registered for SBI mobile Baking. Now here you can Skip this step. You can create MPIN anytime.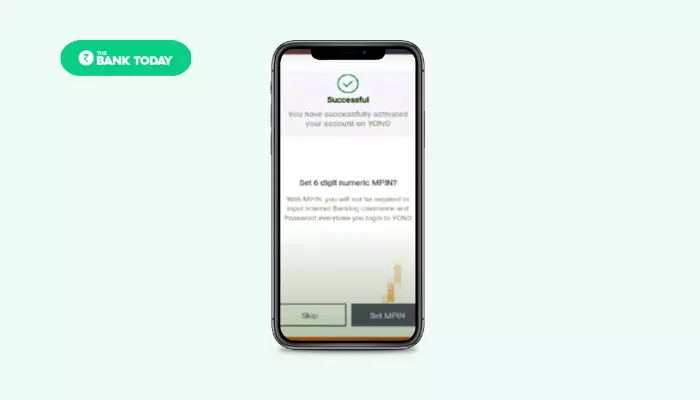 Step-10: Now go to the Homepage of the YONO SBI.Now, Here Login with your username and password. After login in, you can check your account balance and also you can use all the mobile banking services.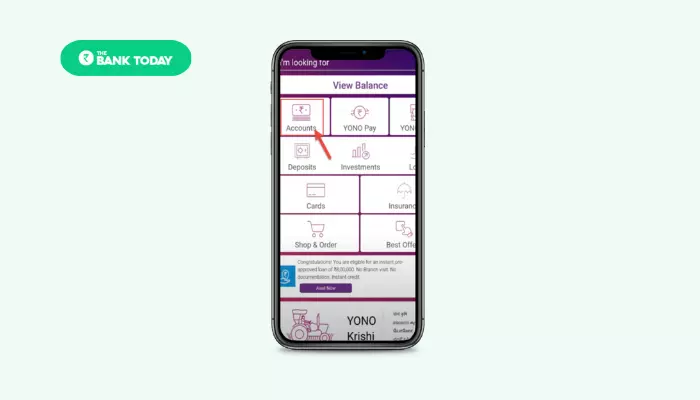 SBI has released the YONO Lite SBI – Mobile Banking application to enhance the ease of use in Internet Banking. You can install the application from Play Store for Android phones and for iPhones you can install it from App Store. Below we have provided links to download the application for both platforms.
How to activate SBI online banking? We have explained the step-by-step process in simple and easy language. So that all the SBI Account holders can use the mobile banking services just by activating the Internet banking service. If you are facing any issues with mobile banking activation you can reach us by commenting in the below comment box. We will try to reply to your comment as soon as possible.
Also Read: How to Open SBI Account Online in 2023
How to activate SBI online banking in 2023 information will help all the SBI account holders. So please share this post on your social media so that all the account holders will use this service. On this website, we provide complete knowledge of banking-related services and terms. If you want to make use of this website by typing thebanktoday.com in google.